Scheermesjes in de wilgen met #Januhairy: jij ook?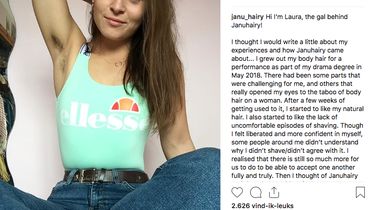 Joehoe, het is januari! Tijd om je oksels, benen en bikinilijn even niet te scheren. Als het aan Laura ligt, tenminste. Zij begon op Instagram de actie #Januhairy.
Helemaal nieuw is het natuurlijk niet: de laatste jaren is er -gelukkig?!- steeds meer aandacht voor diversiteit, ook als het gaat om lichamen en lichaamsbeharing. Een goede zaak, vindt Laura.
Je sterker
Vorig jaar besloot de Instagrammer voor een toneeloptreden dat ze haar lichaamsbeharing even ging laten voor wat het was. Ze kreeg er veel vragen en opmerkingen over, maar voelde zich er heel goed bij, schrijft ze in de post bij een foto met haar oksel.
"Na een paar weken wende ik aan het niet scheren, en begon ik mijn natuurlijke haar leuker te vinden", aldus Laura. Ze had veel meer zelfvertrouwen en wil andere vrouwen oproepen met haar mee te doen.
Met succes, want op social media regent het al foto's. Ga jij ook meedoen, scheer je je al jaren niet (meer) of kan of wil je jouw scheermesje niet missen?
I'm so down for #januhairy – let's make 2019 the year that women are no longer shamed for their natural body hair. Let me be clear, if my pit kitty offends you, that problem is not mine, it's yours and you should go away and do some unpacking on that. Th… https://t.co/IUMvu9MilM pic.twitter.com/f7xScHyrlt

— Nomipalony (@nomipalony) January 6, 2019
Surely, even in these divisive times, we can all unite on one thing: #Januhairy is lazy & revolting. pic.twitter.com/Ly8pEUXZpR

— Piers Morgan (@piersmorgan) January 9, 2019
https://twitter.com/samanthadshay/status/1081894209316114432
https://twitter.com/FCBSaga/status/1083226056188981256